Start your Saturday in the Woods! Join us for Work Party #6 from 10 a.m. to noon to rid a section of trail of invasive Yellow Archangel. This is not strenuous work–just hand-pulling with trowel assist. Gloves, tools, and snacks provided. Work site is easily accessed through the "Wilderness" neighborhood–the same location as the last two work parties. (From Boulevard Rd. SE, turn east onto Wilderness Dr., then turn left on Highline Dr. Proceed to 4000 "block" and park along street. The photos here will help guide you.
Look for  green Frontier Dr./Highline Dr. street sign. Trailhead is to the left of this sign.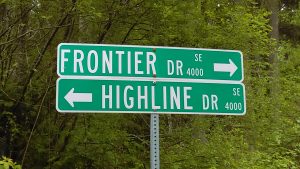 If you are coming from the main LBA Woods Park parking area, please follow the signs and yellow flagging (below); the walk to work site is 10-15 minutes.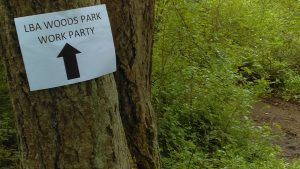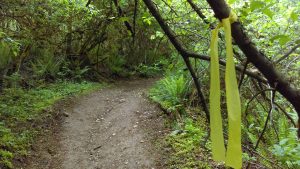 Everyone is welcome!
Under 18 years old? You must have a Waiver and Medical Alert (one-page form) signed by and adult. We will have these forms on hand, but you can also download/print them from the Olympia Parks website and fill them out beforehand: http://olympiawa.gov/city-services/parks/volunteering.aspx
Under 14? You must be accompanied by a parent/adult.
The Friends of LBA Woods will be hosting more work parties this summer and guided walks to introduce you to lesser-known trails to avoid construction site trail closures. Stay tuned for dates!