For those of you interested in what is being planned for the 10-acre scotsbroom field fronting Boulevard Rd. and backing into the LBA Woods, please take 36 minutes to watch the presentation given at the City Council's Nov. 27, 2018 study session devoted to this topic here:
http://olympia.granicus.com/MediaPlayer.php…
This parcel is referred to as the "Boulevard Road" property–not as the "old-growth scotsbroom field," which is how many regular walkers on the trails here fondly refer to it.
Mark Reid, the city's Economic Development Director, does a great job explaining the history of the acquisition of the parcel, the ideas from the Land Use & Environment Committee, and how the process might move forward during a time of various housing crises in Olympia. The City Council members are fully engaged in this and have some very thoughtful ideas about this project.
The upshot: rather than slapping a "For Sale" sign up on the property, the City Council has agreed to start a public process to develop a vision for developing this acreage for housing. Recall (please!) that this property was not acquired with Park Dept. funding but by the City through general funds explicitly for housing. The property is zoned RM-18, which means it can accommodate anywhere between 8 and 24 housing units per acre, with the "sweet spot" being 18 per acre.
The public process will start in February and will include a stakeholder's group to begin developing a plan for housing (see some options in the study session presentation). This plan will eventually be part of a statement of development objectives and project vision that will go out for RFP (Request For Proposal) to developers/builders.
Here are two screen shots from Mark Reid's presentation outlining some ideas for the Stakeholder group engagement.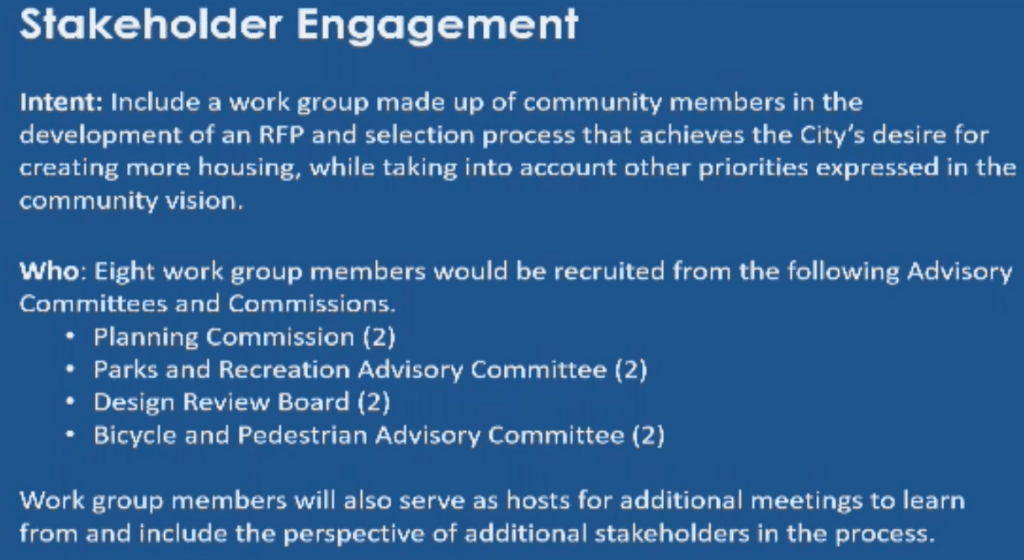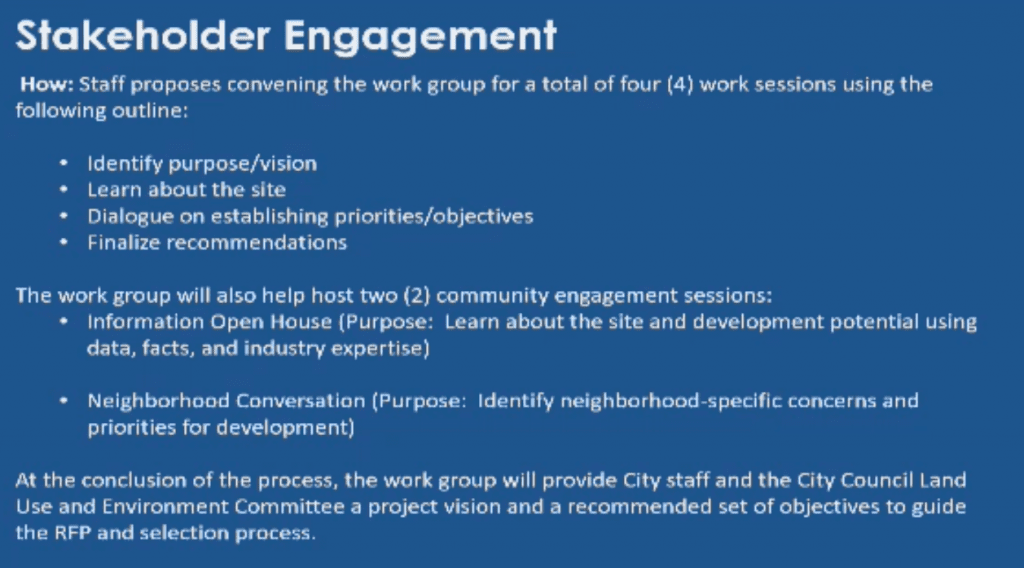 Information on this project will be posted here and our our Facebook page.