The Pacific Bleeding-heart are emerging in the LBA Woods…and The Friends of LBA Woods is launching springtime nature walks guided by experts in the field. Here are our first two walks. We'll be posting more (including some on weekends) soon.
Tuesday, March 27,  1-3 p.m.  The Upland Forest Ecosystem
Learn all about the "top ten" key native tree and plant species that thrive together in the LBA Woods. This walk will be led by wildlife biologist Marian Bailey, (USFWS retired), who will share her expertise in botany and plant communities. You will be enlightened and fascinated…even if you've been walking in these woods for years!
Tuesday April 17,  10 a.m.-12 noon     Margaret McKenny Birthday Walk
Honor this accomplished naturalist (1885-1969) who lived in Olympia and published many field guides on wild mushrooms, wildflowers, birds, and other wildlife and helped lead the effort to save Watershed Park from private development. This walk will be led by the very knowledgeable Anne Kilgannon and will focus on Margaret's favorite species and her nature writing. This walk will be limited to 20 participants. Please take a moment to RSVP to this e-mail (Maria Ruth, Friends of LBA Woos) so we can save you a space.
All walks are family friendly. Meet in LBA Park near the picnic shelter (at Amhurst St. entrance). Walks are rain or shine. Dress for the weather, bring your field guides, binoculars, magnifying glass if you like! Bring your smart phone if you want to be part of our iNaturalist project (see below).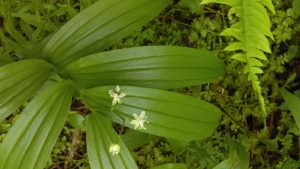 The Friends of LBA Woods is launching an all-community iNaturalist project to document and celebrate the biodiversity of life across the seasons in the LBA Woods. iNaturalist is a California Academy of Sciences smart-phone app that allows you to identify, record, and share what you learn in the natural world online. We will be taking time during each of our guided nature walks to add our observations to the iNaturalist database.
Curious?  Go to https://www.inaturalist.org/pages/about to read about how iNaturalist works (it may be easier to read on your laptop or computer than your smart phone). When you are ready, follow the instructions to create an account. Then under the "Projects" tab, search on "LBA Woods," and click "join."  Detailed instructions are on the iNaturalist website: https://www.inaturalist.org/pages/getting+started
Get started!  Download the free iNaturalist app to your iPhone or Android. You can practice the steps of recording an observation (just delete the observation instead of posting it).
Be sure to turn on/enable "location" in your phone settings.  Fully charge your phone before heading into the field. Arrive a few minutes early to our walks and we'll show you how the app works so you can begin adding your observations—during our walks or on your own rambles in the woods.
No smart phone? No problem! If you want a gizmo-free experience of nature, please join our walks and lend your eyes, ears, knowledge. Or come along to listen and learn. Everyone is welcome!
Questions? Contact Maria Ruth, Friends of LBA Woods, at mariaruthbooks@comcast.net