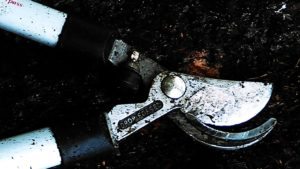 It's the day we've all been waiting for–the celebration of the success of our community's campaign to save the  LBA Woods! With the city's unanimous vote on September 27 to purchase the second parcel, Olympia's future includes a new legacy park.
Please join us on Saturday, October 22, for a ribbon cutting with Mayor Cheryl Selby and Olympia Parks Director Paul Simmons. We'll have coffee, Lattin's apple cider and fresh donuts, ebullience, gratitude, a special guided trail walk. Everyone is welcome–dogs on leashes, too!
The event will be held near the kiosk at the edge of the ballfields in LBA Park. Look for the balloons and signs on Morse-Merrryman Rd. across from McKenny Elementary School. The parking lot may be full, but we have permission from the school to park in their lot. It's a short walk along a walking path into the woods.
Following the festivities, we'll move right into our trail walk and work party at 11 a.m. We'll supply tools, gloves, and liability waivers–fun!–and continue our eradication of invasive scots broom and blackberry. This is your time to experience the wonder of a weed wrench!
It's a busy time of year, so feel free to stop in the for the ribbon cutting ceremony at 10 a.m.. Come by for a cup of coffee! Run past and grab a donut! Come by at 11 a.m. for the guided walk or to join the work party.  Stay until you're done or 2 p.m.
Be a part of our grand day in the LBA Woods–the trees and we want to thank you!
NOTE to Minors: All children are welcome, but must be accompanied by an adult if under age 13. Children ages 13-17 can work solo, but must have a liability waiver signed by an adult. The waiver can be downloaded here (to to "Volunteer in Parks," then "Work Parties," then "Waiver and Medical Alert.) Please print out and bring to the event. We will have waivers on hand if parents/guardians want to drop off their 13-17 years olds for a few hours of donut-fueled weed wrenching.