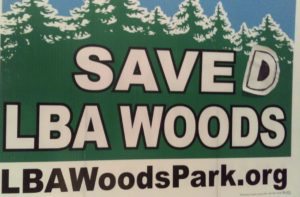 Join the LBA Woods Park Coalition Tuesday night (September 27) at 7 p.m. for the big vote by City Council to approve the option to purchase the 72-acre "Bentridge" parcel. If approved (and we have no doubt it will be) this acquisition means the LBA Woods will be the second largest park in Olympia!
Details of the purchase can be read here in the Staff Report.
Wear your T-shirts, bring your signs! The LBA Woods Park Coalition leadership team will be handing out Ds (see photo) for your signs and evergreen fronds to wave during the meeting. This will be our silent cheer, our visually stunning thanks from the trees, some green gratitude.
The meeting takes place at Olympia City Hall.