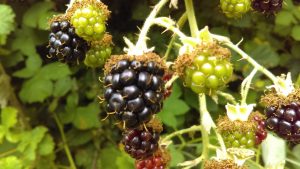 WORK PARTIES ARE BACK!
Saturday, October 14 – 10:00am-1:00pm
Wednesday, October 18 – 9:30am-12:00pm
These Himalayan blackberries were delicious this summer but alas, they are an invasive species taking over the native habitat in the LBA Woods. Join Olympia Park Stewardship staff, Friends of LBA Woods, and your fellow volunteers to work on eradicating more of this prickly vine. Come when you can, stay as long as you want.
Long pants and sturdy shoes required. Gloves, tools, water, and light snacks are provided. Service-hour forms will be signed by Park staff or Friends of LBA Woods.
The park is located at 3333 Morse-Merryman Rd. SE. Follow the signs to the LBA Woods trailhead, south of the main (east) parking lot, and to the work site. Restrooms are a ten-minute walk from the worksite. Plan accordingly! This is a rain or shine event.