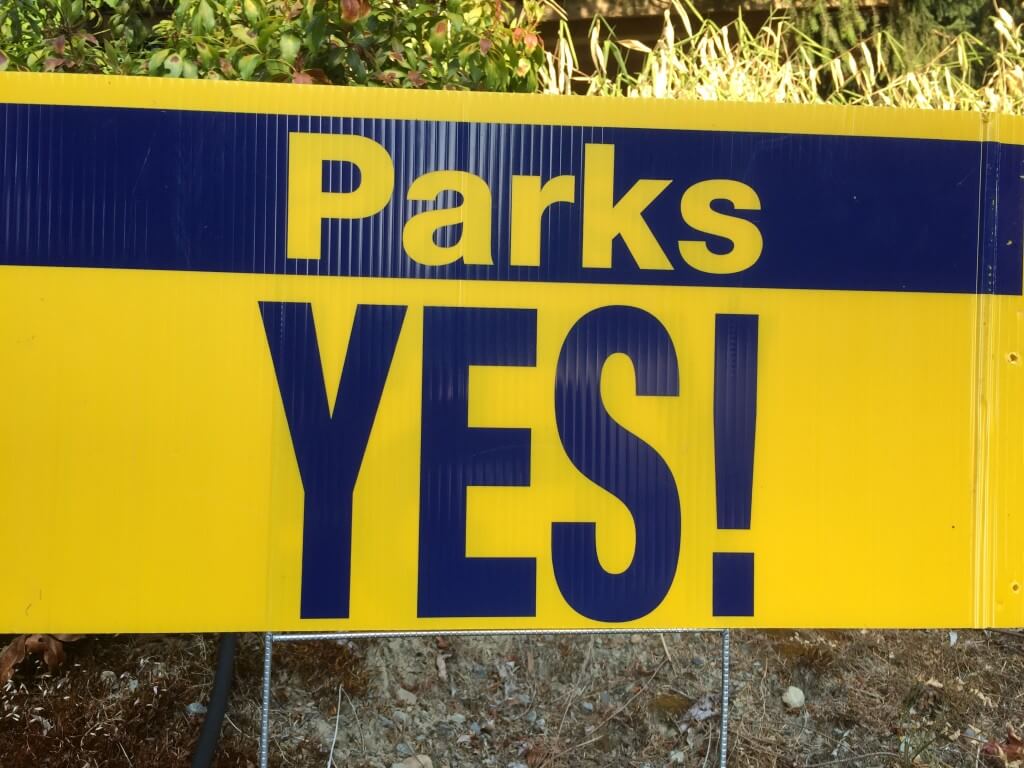 In case you missed The Olympian on Saturday, you can read Andy Hobbs' article on the YesOlympiaParks campaign kickoff here.
There is strong community-wide support for Proposition 1–to establish a Metropolitan Parks District (MPD) in Olympia.Naturally, every new ballot measure and tax increase has its opponents, but this measure was carefully crafted to prevent the main criticism that the money collected through the MPD will be "cannibalized" to cover funding gaps in other city departments. The ordinance guarantees that "district funding will supplement and protect existing Olympia parks funding."
Criticism of the City's use of the revenue from the 2004 Voted Utility Tax (VUT)has been an ongoing concern of Olympia residents who believe all of the accrued 2% tax for parks was misdirected from acquisition of 500 acres of new parkland to basic maintenance and operation expenses. This is not entirely true. The Parks Department chart below shows (in orange) the acreage acquired for parks through VUT monies. Clearly 63 acres of purchased property is nowhere near the goal of 500 acres here, halfway through the 20-year horizon of the VUT.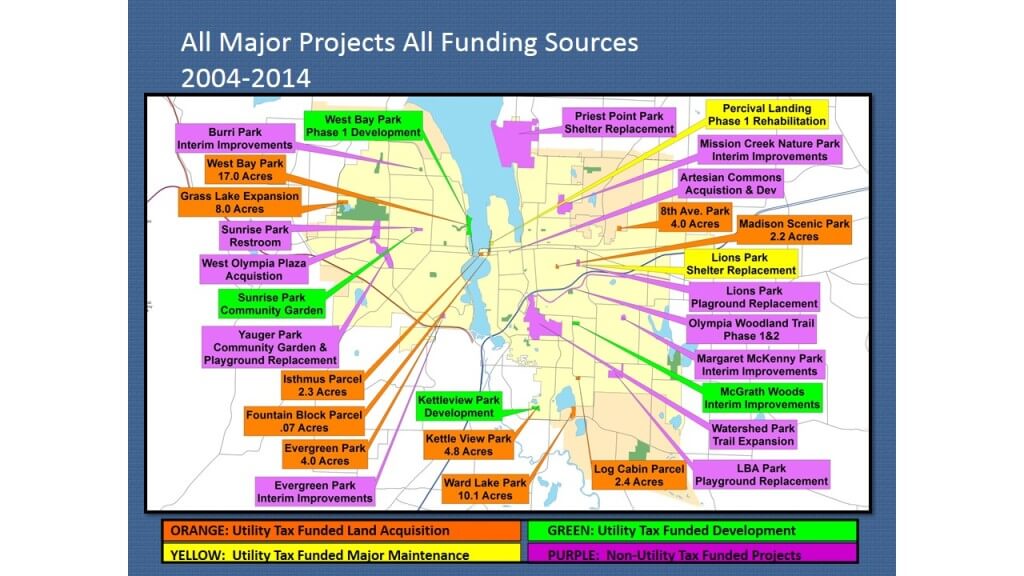 In its defense, the City states that the Great Recession of 2008 limited their ability to acquire property–and they chose to use the VUT funds to leverage a grant for major maintenance on Percival Landing–a City of Olympia park, but not a newly acquired one. The VUT language prioritized maintenance and operation of newly acquired park properties. What the City did with the VUT funds was not illegal–and certainly no one wanted to see the Percival Landing boardwalk closed or collapsed.
Under pressure from parks-advocates groups, the City of Olympia is working to aggressively acquire more parkland. On July 21, the City Council declared its intentions to acquire the 74-acre Ashton Woods parcel (half of LBA Woods) in southeast Olympia and they are moving on the similar-sized Kaiser Heights property near Ken Lake in southwest Olympia.
The City is moving in the right direction and the proposed Metropolitan Parks District is the best way to assure they keep moving toward that 2004 goal of 500 acres of parkland. The MPD fully restores the 2% VUT, and the 1/2 non-voted Utility Tax adopted in 1997, and it locks in general fund spending at 11%. Furthermore, the MPD provides accountability through a Citizens Advisory Board whose sole job is to ensure the MPD funds are spent as intended by the voters.